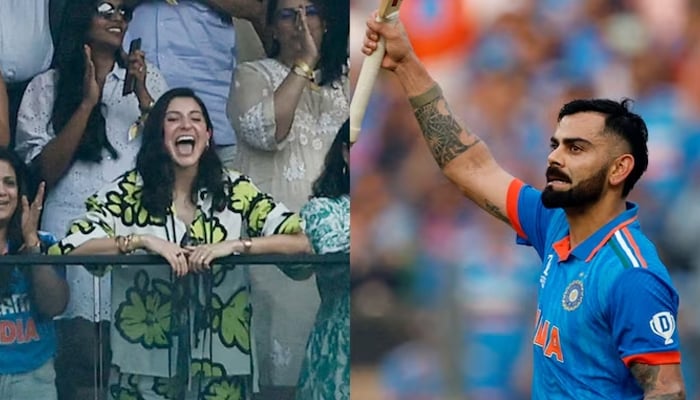 The reaction of Anushka Sharma, the wife of Virat Kohli has went viral after the Indian batter received a standing ovation from the Wankhede Stadium crowd upon reaching his 50th ODI century during the first semi-final of World Cup 2023 against New Zealand.
Despite displaying a subdued celebration for his 49th ODI century in Kolkata earlier this month, Virat Kohli let loose after achieving the milestone of 50 at the grand stage in Mumbai. In the World Cup semi-final against New Zealand on Wednesday, November 15, Kohli reached the significant landmark in 106 deliveries.
Acknowledging the applause, Virat Kohli removed his helmet and bowed to Sachin Tendulkar, who was present at the Wankhede Stadium to witness the World Cup 2023 semi-final.
Among the celebrities in attendance for the crucial semi-final was Bollywood star and Kohli's wife, Anushka Sharma. Anushka was overjoyed to witness Kohli achieve the milestone on the grand stage, and she sent flying kisses to her husband.
Hardik Pandya and Yuzvendra Chahal also stood up in appreciation, contributing to the heightened atmosphere at the Wankhede Stadium.
Virat Kohli delivered another masterclass, achieving his third century of the World Cup in just 106 balls, exhibiting determined running between wickets on a humid day.
Kohli departed after scoring 117 runs in 113 balls in the 44th over, contributing significantly as India surpassed 300.
Members of the support staff and his teammates stood up and applauded Virat Kohli, shaking his hands in recognition of what could be considered a defining innings. The Wankhede Stadium stood united in applause for this remarkable achievement.