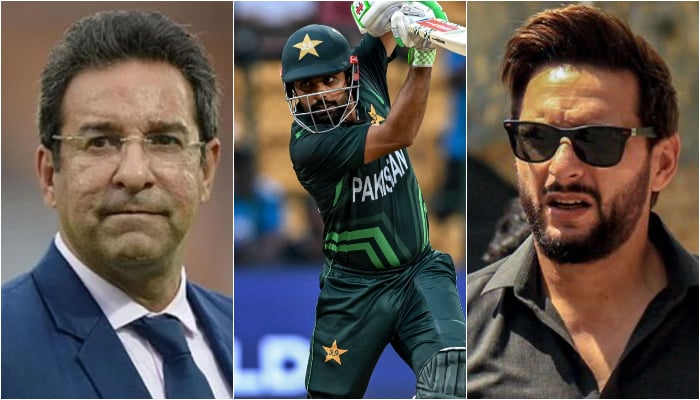 Former Pakistani cricketers Wasim Akram and Shahid Afridi responded to Babar Azam's comments where the current Pakistani skipper had said that "it is easy to give advice on TV".
Babar had defended his captaincy saying that there is no pressure on him and those who have something to say should call on his number.
"There is no pressure on me. I was performing and leading the side for the past three years as well. It is easy to say things while sitting on tv. People who want to advise me can contact me on my number," Babar said.
However, Wasim and Afridi didn't approve of Azam's comments and the latter talked about the importance of playing so well that your critics wouldn't need to call you.
"That response wasn't needed at all. Just focus on playing well. Perform in a way that no one has to call you," Afridi said while speaking on a local TV channel.
On the other hand, Akram also had the same opinion as Afridi saying that if you don't perform, you'll be answerable to the press and fans.
"If you do well, everything goes fine. But if you don't, then you have to be answerable to people and the press. And don't worry about what people say, you need to be immune to this," Akram said while talking on a local TV channel.
It must be noted Pakistan have been knocked out of the ICC World Cup 2023 after failing to achieve the required net run-rate target against England in Kolkata during their final round-robin stage match on Saturday.
Pakistan needed to restrict England to 100 runs to have any chance of qualifying for the semi-finals but, since the latter have gone past that figure, the Men in Green are now out of the event.
Pakistan won't be able to chase down England's target within the required overs, keeping NRR in mind, even if they hit a six on every ball.
Pakistan's semi-final qualification scenario:
If score is 50 — Pakistan need to chase in 2 overs
If score is 100 — Pakistan need to chase in 2.5 overs
If score is 150 — Pakistan need to chase in 3.4 overs
If score is 200 — Pakistan need to chase in 4.3 overs
If score is 300 — Pakistan need to chase in 6.1 overs
Pakistan have won four and lost as many matches during the tournament before today's encounter against England.