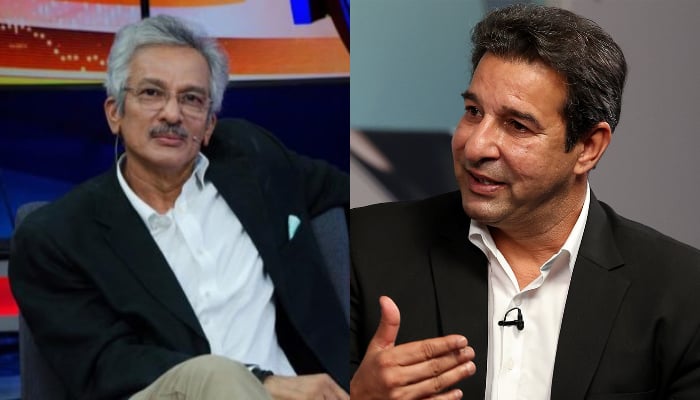 Former pacer Wasim Akram reacted to ex-Pakistani cricketer Sikander Bakht's comments about toss-fixing during the first semi-final of the ICC World Cup 2023 between India and New Zealand in Mumbai on Wednesday (November 15).
The first semi-final of the mega event became controversial even before it started as Daily Mail Sport reported that the Board of Control for Cricket in India (BCCI) pressurised the International Cricket Council (ICC) to use a used surface for the match despite the fact that the fresh surface was supposed to be used.
Nevertheless, after India emerged winners as they fled past Kane Williamson's men by 70 runs to make way for the World Cup final, Bakht stated that Indian skipper Rohit Sharma threw the coin far away so that New Zealand's captain couldn't see it.
"If you see closely enough, whenever Rohit Sharma gets to flip the coin for the toss, he also tosses it far away from the other captain. It is almost far enough that the other captain never really gets to see what the actual outcome of the toss was," Bakht said while talking on Geo News.
Akram isn't a fan of such speculations as previously he had debunked Hasan Raza's theory of giving a different ball to Indian bowlers and he, once again, didn't pay much attention to Bakht's comment and gave a brief statement.
"Who decides where the coin should land? The mat is there for sponsorship reasons. I feel embarrassed," Akram said while talking on a local sports show.
The former left-arm pacer then went on to talk about India's performance in the World Cup while specifically mentioning Rohit Sharma saying that he doesn't score 50s or 100s but it's his start that gives Indian players room to settle.
"We do not hear a lot about Rohit because he does not reach centuries, or hit double centuries, but the starts that he gives. He scored 47 off 29 balls, India hit 84 in the first 10 overs, that was the platform that India really needed.
"Look at the shots that he played. He puts the opposition under pressure with his batting and from there, India get to 397. The quality of Indian batting made the New Zealand bowling attack look pedestrian," he added.