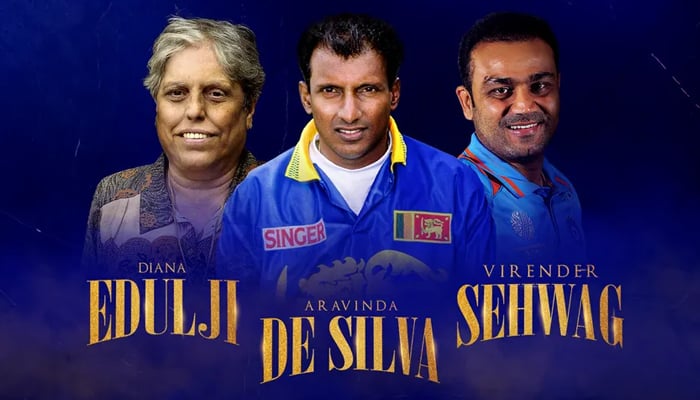 The ICC announced on Monday that legendary Indian opener Virender Sehwag, India trailblazer Diana Edulji and Sri Lanka superstar Aravinda de Silva were included in the Hall of Fame on Monday.
Sehwag scored a total of 23 Test centuries during his illustrious career, along with 8,273 runs for India in 50-over cricket.
"I would like to thank the ICC and the jury for inducting me with this honour," Sehwag said.
"I feel extremely grateful for having spent a great part of my life doing what I loved most, 'hitting the cricket ball'.
"I would also like to thank my family, friends, people I played with, and countless people who prayed for me selflessly."
Meanwhile, Edulji featured in 54 matches for India over three different decades while claiming more than 100 wickets for her country.
But her contributions off the field had an even greater impact, having played a key role as a trailblazer for India's women's cricketers for many decades.
"At the outset, I would like to thank the ICC and the Jury for having selected me to be inducted in the ICC Hall Of Fame 2023," Edulji said.
"It indeed is a great honour to be the first Indian Women Cricketer to be inducted and join a galaxy of cricketers, male and female from across the world.
"I am delighted to be considered for this award. It's not only a proud moment for me, my family and friends but also for BCCI and Indian Women's Cricket."
The final name on the list is de Silva, who is a winner of the ICC Men's Cricket World Cup with Sri Lanka in 1996.
The classy batter scored 20 Test centuries during an 18-year international career – the third most hundreds by any Sri Lanka men's player – while also scoring another 11 centuries in 50-over cricket.
"I am filled with profound gratitude as I accept the immense honour of being inducted into the ICC Hall of Fame. This achievement is a tribute to the dedication, sacrifice, and love that have shaped my cricketing journey," de Silva said.
"My family, my parents, my sister, my wife and children are my anchor, and deserve the deepest thanks for their unwavering support and sacrifice, which have propelled me towards success. My friends, steadfast companions throughout my highs and lows, have been my pillars of strength.
"To my coaches, teachers, fans and supporters, your relentless belief in me has fuelled my drive to succeed. My mentors and captains have guided and inspired me, and my teammates have been my extended family on this incredible journey. To the ones I have played against, thank you for enriching
my game.
"My sincere appreciation goes to the ICC, and the Hall of Fame voting committee for this extraordinary recognition. I share this honour with all who have stood by and shaped me.
"Thank you for being part of this remarkable journey."