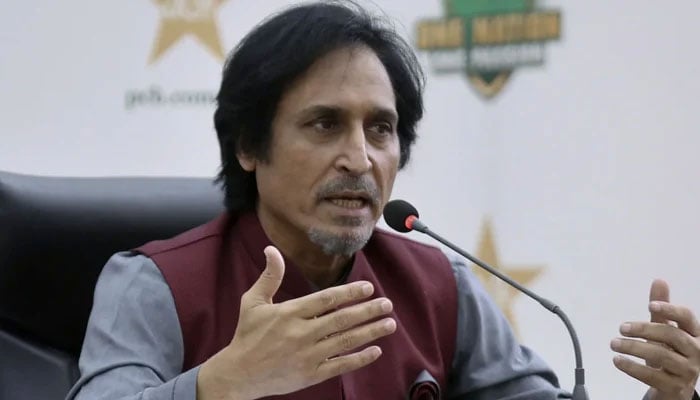 Former Pakistani cricketer and renowned commentator Ramiz Raja slammed the Pakistan Cricket Board (PCB) for the way they treated the Pakistani team during the ICC World Cup 2023.
Pakistan lost to England by 93 runs in Kolkata on Saturday (November 11) and their World Cup misery was put to rest as the Green Shirts failed to chase the 338-run target.
Raja, who served the PCB as its chairman for almost two years, slammed the entire Pakistan board and defended current skipper Babar Azam.
"When you [bowlers] don't take wickets with the new ball and start getting expensive [conceding runs], how would Babar do captaincy then?" Raja said while talking on his YouTube channel.
"And then they [PCB] would gather some ex-cricketers and ask them how to fix cricket? Who put them in charge [of the board]? Is their job just to huddle together and change the captain and the coaching staff and everything would think they have taken a big step. It is their misunderstanding."
Raja then emphasised on stopping the process of leaking news and giving statements during a big event and also heavily criticised the newly-appointed interim chief selector Tauseef Ahmed.
"Not even an inch of Pakistan's cricket can get better if you don't have passion for the game. You need to change yourself and your mindset. You need to shut this process of leaking news to your favourite reporters," he added.
The new chief selector that you've appointed, look at his old clips and how badly he has talked about Babar [Azam] and [Mohammad] Rizwan, you want your cricket to progress by appointing a 70-year-old who knows nothing about selection?"
The 1992 World Cup winner then said that Pakistan cricket has collapsed and also talked about the problems with local clubs.
"Pakistan cricket has collapsed. You can't bat, bowl or field with spikes in club matches. On weekends, the grounds where clubs practice are given to the companies to organise tennis-ball cricket because it gives them [the clubs] money. This entire system needs to change and the board should change itself first," he concluded.
Remember, Pakistan's World Cup campaign ended with eight points out of a possible 18 as the Men in Green emerged victorious in four games while tasting defeat in five.
Pakistan have now failed to qualify for the World Cup semi-final for the fifth time this century as their last appearance was in the 2011 World Cup semi-final against India, which they lost.