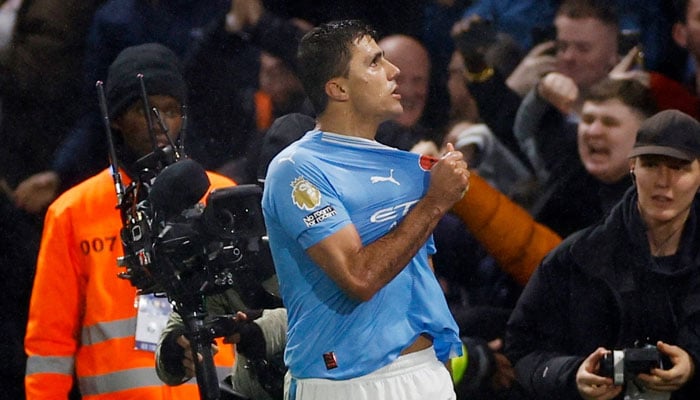 Manchester City's midfielder Rodri spoke up after a thrilling eight-goal encounter in a Premier League (PL) match against Chelsea at Stamford Bridge on Sunday (November 12) saying that he has no regret over his side's performance.
The eight-goal breathtaking encounter involved seven different goal scorers and also saw a 95th-minute penalty against Pep Guardiola's side, that too by no other than their academy graduate Cole Palmer.
Talking after the match, Rodri said that the draw gave his side a chance to go top of the points table and he has no regrets over the way his team played.
"We never gave up. We never lost face," Rodri said in an interview on City's website.
"In the end, it's a draw that gives us the possibility to be first in the table. It's a positive point. When you give everything, there is nothing to regret. We have a positive mentality of course.
"This season, like every season, there will be ups and downs. But we have to make sure we're all together. At the moment we are the best team in the league so we have to keep working in the same way."
Erling Haaland handed Manchester City a lead in the 25th minute by converting a penalty, but Chelsea swiftly turned the tables with goals from Thiago Silva and Raheem Sterling in the following 13 minutes.
Manuel Ekanji scored for Guardiola's side just before the end of the first half, concluding the initial 45 minutes with both teams having scored two goals.
Haaland once again increased City's lead by finding the back of the net in the 47th minute, but Chelsea responded in the 67th minute as Nicolas Jackson scored for the Blues.
Rodri's strike in the 86th minute seemed to secure a decisive lead for Manchester City and pointing the game in the direction of the current Premier League winners. However, Palmer's 96th-minute penalty once again levelled the score.