CNN
 — 

Ridley Scott's storied career has included directing great ("Gladiator") and not-so-great ("Kingdom of Heaven," "The Last Duel") period epics. "Napoleon" lands somewhere in between, a solid and sweeping version of the French leader's war-torn life that proves too flat between the action sequences – a shiny bauble with a hollow core – despite the best efforts of Joaquin Phoenix and Vanessa Kirby.
Although the movie's long, the running time is only about half that of the 5 ½-hour silent classic by the same name, offering some sense of just how much Napoleon story there is to tell.
Saddling up behind Joaquin Phoenix – who excels at creepy and eccentric characters, none more so than his take on "Joker" – Scott has found a seemingly ideal candidate to portray the Little Corporal, whose fearsome strategic prowess on the battlefield brought about his rise at the turbulent end of the 18th century, becoming France's emperor in 1804.
That said, there's not really a whole lot of depth to the character, who his soon-to-be spouse Josephine (Kirby) quickly sizes up as an unmannered brute, telling him, "You are nothing without me," before getting him to dutifully repeat the phrase.
Indeed, the title notwithstanding, "Napoleon" is generally at its best when exploring Josephine's side of the story, which hinges foremost on her inability to provide Napoleon with the heir that he so desperately wants. That's in no small part thanks to the alluring yet mysterious quality that Kirby, of "Mission: Impossible" and "The Crown" renown, brings to her.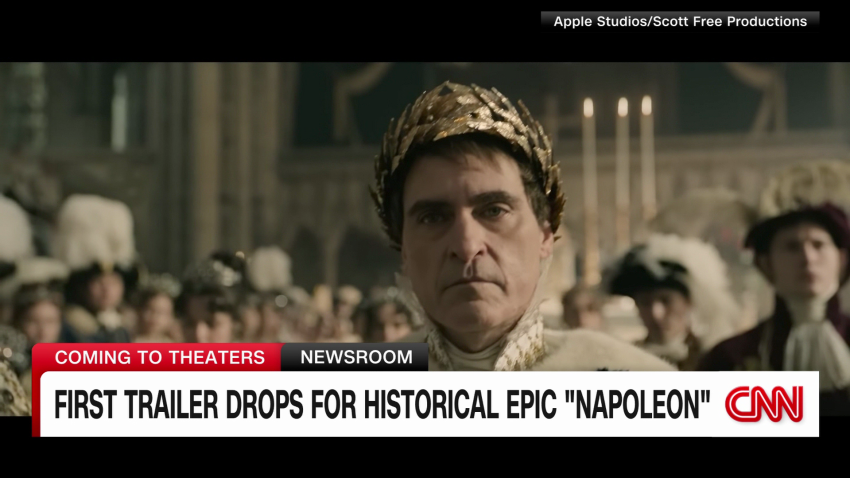 Joaquin Phoenix reigns supreme in new "Napoleon" trailer
Those tensions at home alternate with Napoleon's adventures abroad, including, in the movie's most visually dazzling sequence, the snowy battle at Austerlitz. Working from a script by David Scarpa (with whom he collaborated on "All the Money in the World"), Scott presents those sequences in brutal, unflinching fashion, while capturing the almost feral nature of Napoleon's military acumen.
What doesn't come through, at least not enough, is the charisma that would prompt so many men to follow him to their deaths. Instead, the character seems defined by his quirkier, odd moments, until the final chapters revealing the hubris – like not heeding warnings about Russian winters – that often goes hand in hand with unfettered power.
"Napoleon" also has the distinction of being the second lengthy historical film upon which Apple has placed a very sizable bet this awards season, following another prestige-seeking entry from an octogenarian filmmaker, Martin Scorsese's "Killers of the Flower Moon."
The aforementioned winter, however, isn't the only part of "Napoleon" that's a little too chilly. Perhaps that's why the film, while technically superb, feels like it wins several battles but doesn't entirely qualify as a success in terms of the overall war.
"Napoleon" premieres November 22 in US theaters and will later play on Apple TV+. It's rated R. (Disclosure: Lowry's wife works for a unit of Apple.)