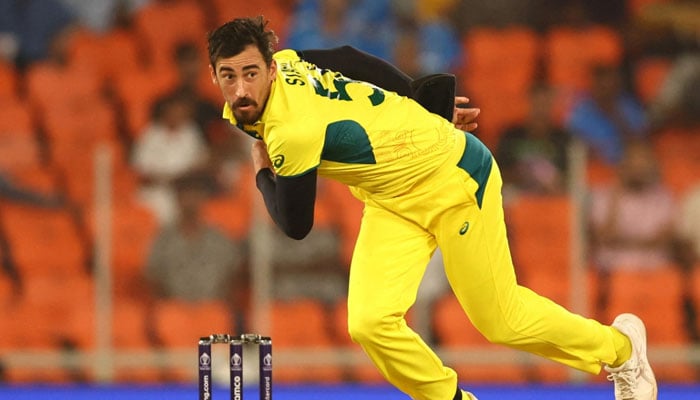 Australian left-arm pacer Mitchell Starc has confirmed that he will retire from ODIs before calling time on his Test career as his side prepare for the much-awaited ICC World Cup 2023 semi-final against South Africa in Kolkata on November 16.
Starc has 230 ODI wickets in 119 matches but he is certain that he won't be around for the next World Cup, which will be co-hosted by South Africa, Zimbabwe and Namibia, as he would be 37 by then.
The 2015 World Cup winner won't be calling time on his ODI career immediately as Australia have scheduled an ODI series against West Indies in February 2024 but doesn't have any 50-over match till September when they tour England.
"I'll look to keep playing after this, but I don't doubt that I won't be making the next World Cup. I've no vision for that. Four years is a long," he told reporters in Kolkata.
"I've always maintained that Test cricket is the top of the tree for me and I'll drop off the rest before I let go of Test cricket. For me [the semi-final] is just another one-day game for Australia, it's not the end of the road in one-day cricket as yet for me."
Even though Starc is having an average World Cup with just 10 wickets to his name, unlike 2015 and 2019's tournaments where he bagged 22 and 27 wickets respectively, he is keen to help his side overcome the in-form Proteas in Kolkata to play the much-awaited final on November 19 in Ahmedabad.
"I certainly haven't been at the level I would have liked…or not the same level as the last two World Cups anyway, but now a chance at the pointy end to impact again," he said.
"Certainly bowling first on particular wickets, the new ball with two fielders out I think has been almost the hardest time to bowl. You get a bit of an understanding of the wicket as the game goes on…that's not a sob story, that's the nature of one-day cricket."
He also talked about how difficult it has been for bowlers as there are two new balls and all the batting conditions saying that the bowlers just have to find a way.
"You've got two brand new balls on flat wickets, that's the nature of the World Cup if you look at the runs scored, or certainly centuries scored, as opposed to five wickets taken, the ratios are heavily skewed. Bowlers just have to find a way [to take wickets]."