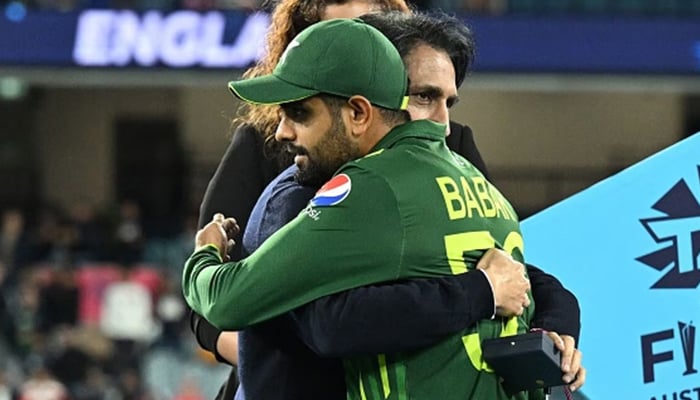 Former Pakistan cricketer and renowned commentator Ramiz Raja has made a shocking revelation about skipper Babar Azam with the Men in Green on the brink of World Cup exit.
New Zealand's win against Sri Lanka on Thursday has made Pakistan's path to the World Cup semi-finals — which was already difficult — nearly impossible as they require a massive win over England in their last match today.
If Pakistan bat first against England, they would have to beat them by 287 runs. If Pakistan bowl first, they need to dismiss England for 50 runs and chase the target in two overs or 100 runs in three overs.
Speaking ahead of the match, Raja, who met Azam yesterday, said that the Pakistan captain is depressed and frustrated since his side won't be able to qualify for the semis of the World Cup.
"I was doing a show for the ICC at the nets and we met by chance. There were no specific plans for this meeting with Babar," Raja told a local news channel. "Babar looked depressed and sounded frustrated because Pakistan have failed to qualify for the semi-final of the World Cup."
Raja also said that drastic changes are not necessary in Pakistan cricket after the World Cup debacle.
"Babar is a mature captain with a good temperament who handles his anger very well. Pakistan cricket team is losing and people passing comments is unbearable. If I was in place of Babar, I would've given harsh answers in press conferences. I think as a critic we need to introspect," said Raja.
"Pakistan Cricket has no system like India or Australia who've a great back-up talent. We are bound to utilise current bunch of players carefully.
"There is no need of drastic changes. Pakistan cricket needs time to move forward. I felt bad after talking to him [Babar]."
However, Raja didn't share his conversation with Azam about the latter's future as captain of Pakistan in all formats of the game.
"Babar shared with me [about captaincy] but this was a private conversation between us and I don't want to make it public," he concluded.