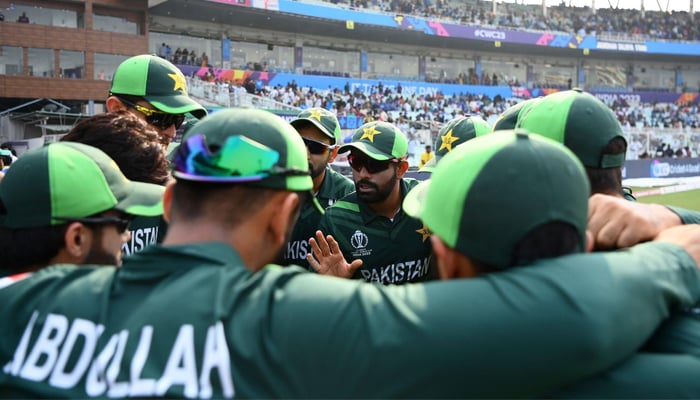 In a cricketing calendar that promises excitement and challenges, the Pakistan men's team is set to embark on a whirlwind tour in the upcoming year.
The Men in Green had a disappointing World Cup 2023 where they managed to win only four games and lost five. They failed to qualify for the semi-finals.
But, Pakistan can now look ahead as the journey begins with a stern test Down Under where they face Australia in a three-match Test series, part of the ICC World Test Championship, between December 2023 and January 2024.
As the calendar flips to the new year, Pakistan shift their focus to the shorter format to prepare for the T20 World Cup 2024, starting with a five-match T20I series in January.
In February and March, the players will play the season nine of the Pakistan Super League (PSL).
Moving forward to April, Pakistan are set to clash with New Zealand once again in a five-match T20I series. The home advantage will be crucial as the team seeks to assert dominance on familiar turf.
May sees the squad venturing to European shores, with three T20Is against the Netherlands and two more against Ireland.
Pakistan then head to England for a four-match T20I series in May, setting the stage for an enthralling contest against one of the sport's historic powerhouses. The pinnacle of T20 cricket awaits in June with the T20 World Cup, where Pakistan aim to showcase its prowess on the global stage.
As the cricketing calendar progresses, Pakistan return to
the home turf in August for a two-Test series against Bangladesh, followed by another challenging three-Test encounter against England in October.
Pakistan will fly to Australia again in November 2024 where they play three ODIs and three T20Is.
The Men in Green then land on the shores of Zimbabwe for three ODIs and as many T20Is in November and December.
Pakistan will then lock horns in South Africa where they play two Tests, three ODIs, and three T20Is which will end in January 2025.
Below is Pakistan's schedule for next year
December 2023/January 2024 – Pakistan to Australia (three Tests)
January 2024 – Pakistan to New Zealand (5T20Is)
April 2024 – New Zealand to Pakistan (5 T20Is)
May 2024 – Pakistan to the Netherlands (three T20Is), Ireland (two T20Is) and England (four T20Is)
June 2024 – ICC Men's T20 World Cup USA/West Indies 2024
August 2024 – Bangladesh in Pakistan (two Tests)
October 2024 – England in Pakistan (three Tests)
November 2024 – Pakistan to Australia (three ODIs and three T20Is)
November/December 2024 – Pakistan to Zimbabwe (three ODIs and three T20Is)
December 2024/January 2025 – Pakistan to South Africa (two Tests, three ODIs, three T20Is