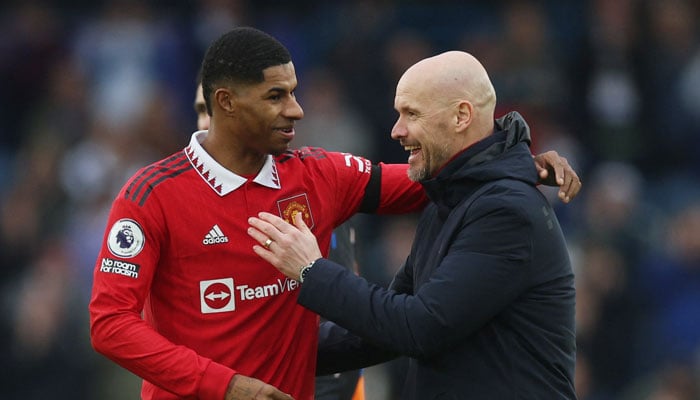 Manchester United head coach Erik ten Hag made an honest admission over the form of forward Marcus Rashford as the 26-year-old has been consistently struggling to find the back of the net.
During United's last UEFA Champions League (UCL) clash against Copenhagen, they had a commanding two-goal lead within the first 28 minutes by the time the match entered injury time, they had not only bottled their lead but were trailing by a goal just minutes away from a defeat and Rashford's red card played its part in the loss.
"I think he's not happy, we are not happy," Ten Hag said of Rashford's performances. "We have an expectation. He has high expectations from himself. In this moment he is not in the best form but I know he will be back.
"I know when the team is playing better he will play better. He will go and score goals. I am confident of that. This season he will improve and score goals. He is totally in the team, he is aware of everything so I think he will be back on track.
"It can happen very quickly and sometimes you only need one game. I'm sure he will get there."
Rashford, who scored 30 goals in all competitions last season, only managed to find the back of the net once in 15 matches.
Ten Hag also talked about United's poor form saying that it is disappointing to lose any game saying that the team is capable of overcoming big setbacks.
"It is about the end result and we have to win every game, so we are very disappointed to lose any game but finally it is about the end result," Ten Hag said.
"It is always about being in a process, thinking about a process and then it's about managing the process. That's the only thing I focus on.
"I think we have often proved we can, like at Fulham, like Brentford, that we can overcome big setbacks."