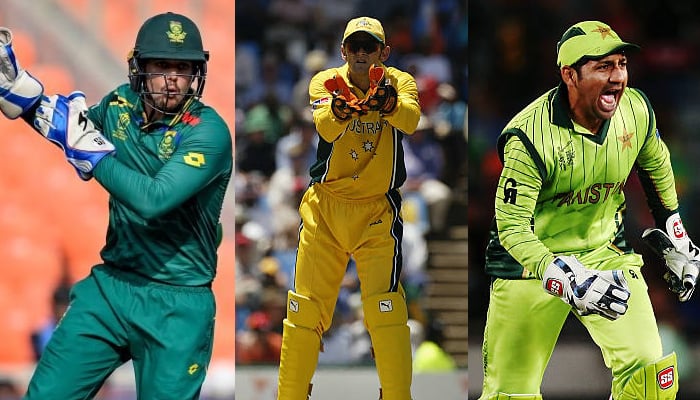 Quinton de Kock, on Friday (10th November), matched the record of Adam Gilchrist and Sarfaraz Ahmed for the most wicketkeeping dismissals in a World Cup match.
He achieved the record during the World Cup 2023 match between South Africa and Afghanistan at the Narendra Modi Stadium in Ahmedabad.
The Proteas wicketkeeper completed six dismissals in the game by securing six catches behind the stumps. Gilchrist, the former Australian wicketkeeper, was the first in cricket history to accomplish six dismissals in a World Cup game, achieving this feat against Namibia in the 2003 World Cup.
After Australia scored 301, they bowled out Namibia for a mere 45 runs, with Glenn McGrath claiming 7 for 15. Gilchrist played a pivotal role in the significant victory, contributing with six catches behind the stumps.
Twelve years later, former Pakistani captain Sarfaraz Ahmed replicated this achievement against South Africa in the 2015 World Cup, where Pakistan successfully defended a modest total of 223 runs.
List of most dismissals by a fielder in a World Cup match:
Adam Gilchrist – 6 vs Namibia in Potchefstroom in 2003
Sarfaraz Ahmed – 6 vs South Africa in Auckland in 2015
Quinton de Kock – 6 vs Afghanistan in Ahmedabad in 2023
Quinton de Kock has also entered the list of achieving six dismissals in a single ODI game. Gilchrist holds the record for doing it the most number of times in ODIs – six. De Kock himself has accomplished this feat for the second time; the first instance was against New Zealand in 2014 when he secured five catches and executed one stumping.
Quinton de Kock aims for another record:
In his final ODI World Cup, Quinton de Kock is poised to claim another record as a wicketkeeper. The South African star, who has already declared his retirement from ODIs after the ongoing competition, has the opportunity to become the wicketkeeper with the most dismissals in a single edition of a World Cup.
This record is currently jointly held by Gilchrist and Tom Latham, both having 21 dismissals in the 2003 and 2019 World Cups, respectively. Quinton de Kock, meanwhile, has amassed 19 dismissals in the ongoing tournament. With at least one more game to play, he will be eager to surpass Gilchrist and Latham's record.
List of most wicketkeeping dismissals in a single World Cup edition:
21 – Adam Gilchrist (Australia, 2003)
21 – Tom Latham (New Zealand, 2019)
20 – Alex Carey (Australia, 2019)
19* – Quinton de Kock (South Africa, 2023)
17 – Kumar Sangakkara (Sri Lanka, 2003)
17 – Adam Gilchrist (Australia, 2007)