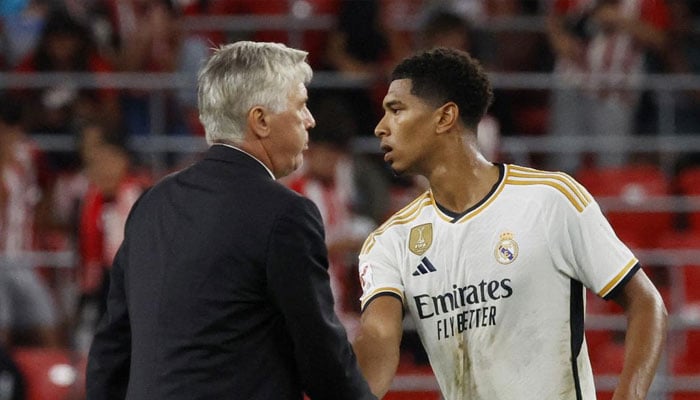 Real Madrid head coach Carlo Ancelotti provided injury update on midfielder Jude Bellingham as the Los Blancos prepare to take on Valencia in a league game on Saturday at Santiago Bernabeu.
Ancelotti confirmed that Bellingham will be back in action after dislocating his shoulder during a goalless draw at the Bernabeu on the weekend as Madrid's attack consisting of Vinicius Junior, Joselu, and Rodrgyo failed to penetrate the visitors' defense for almost 97 minutes.
The 20-year-old didn't feature in Madrid's three-goal win in the UEFA Champions League (UCL) clash against Braga on Wednesday (November 8) but according to the 63-year-old Italian, he will feature against Valencia.
"We are focused on what can happen tomorrow. The player [Bellingham] says he feels comfortable, today he trained and tomorrow he will be available. If nothing happens in the next few hours, he will play," Ancelotti said.
Madrid's on-loan goalkeeper Kepa Arrizabalaga injured himself during the warm-up before the UCL match and is reportedly out for two weeks. He was replaced by Andriy Lunin who saved a penalty in the sixth minute and kept the clean sheet.
Ancelotti has now confirmed that Lunin will be the starting goalkeeper as long as Kepa is out and he has complete confidence in him.
"Tomorrow Fran will be the second goalkeeper. We have a lot of confidence in him. Canizares is also doing well at Castilla," he added.
"There is always debate. While that Kepa has played he has done very well and when Lunin has been used, he has done very well. Each one can have a good moment or a less good moment and then the substitute has to be ready."
However, it seems unlikely that Ancelotti would prefer Lunin over Kepa because just as soon as the latter was signed on loan, Carlo confirmed that he would be the first choice.