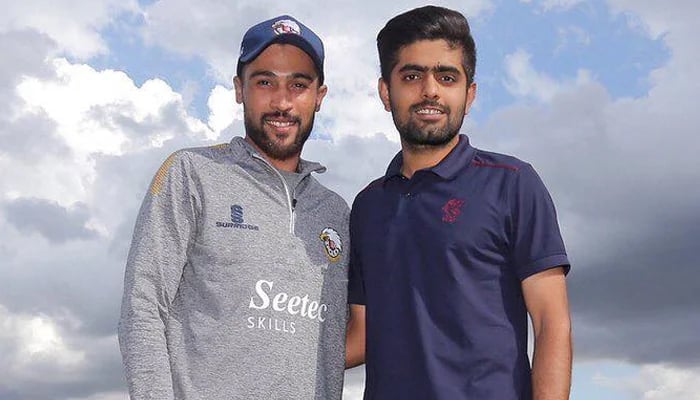 Former Pakistani pacer Mohammad Amir stated that Babar Azam has nothing to prove as a player after the latter stepped down from captaincy across formats on Wednesday (November 15).
Amir, 30, argued that Azam should take this, his removal as a captain, as a challenge.
"This is my advice to Babar [Azam] that he should take this thing [leaving captaincy] as a challenge. He has nothing to prove as a player," Amir said while talking on Geo News program Haarna Mana Hay.
"[Virat] Kohli got to know through social media that he was removed from the captaincy."
Amir then talked about the newly-appointed Test captain Shan Masood and stated that he could be proven a good captain.
"Shan has had a fantastic domestic season. He can turn out to be a great captain," Amir said.
Meanwhile, left-arm all-rounder Imad Wasim who was present at that show as well, said that Babar's decision is great as he would be able to lift captaincy pressure now.
"I think Babar Azam's decision is great. He can now [entirely] focus on his batting without the extra pressure of captaincy. There is so much pressure [of captaincy]," Imad said. "I want to welcome Shaheen Afridi as a T20I captain."
It must be noted that Wednesday (November 15) was a day of changes in the PCB and team as first, Babar Azam stepped down as the captain from all formats after meeting with the chairman of the PCB Management Committee, Zaka Ashraf, after he was only offered to keep the Test captaincy.
Right after his resignation, the PCB named new captains for Test and T20I cricket with Shan Masood and Shaheen Afridi taking the realm of respective formats.
Shan was appointed captain till the end of the ICC World Test Championship 2023-25. Shan's first assignment as captain will be a three-match Test series against Australia in Australia starting from 14 December.
Meanwhile, left-arm pacer Shaheen Shah will lead Pakistan Men's Team in the T20I format and his first assignment as captain will be the five-match T20I series in New Zealand from 12 to 21 January.
Not just that, the PCB also sacked the entire coaching staff of the Pakistan men's team including Director Cricket Mickey Arthur.
As per the press release, the PCB changed the portfolio of the entire coaching staff including head coach Grant Bradburn and batting coach Andrew Puttick.
Bowling coach Morne Morkel had already resigned from his position earlier this week. Umar Gul is likely to be named his replacement.