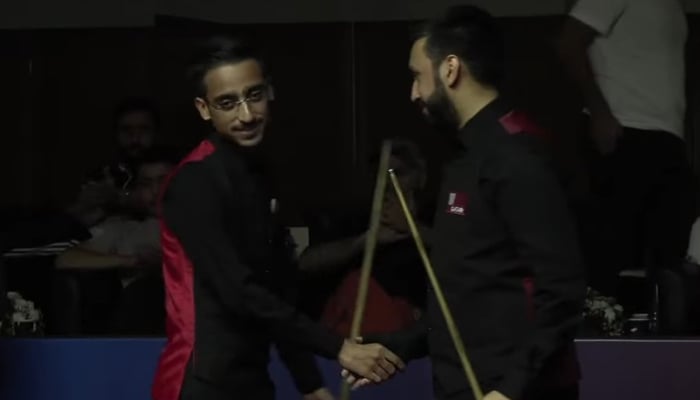 Pakistan's Ahsan Ramzan has qualified for the final of IBSF World 6-red Men's Snooker Championship after beating 15-red World Champion Ali Alobaidli 6-4 in the semi-final on Wednesday in Doha, Qatar.
However, other Pakistani cueist Mohammad Naseem lost 6-5 to Michael Georgiou, who won bronze in 15-red, in other semi after a close contest.
The final between Georgiou and Ramzan will be played later today.
Earlier, Ramzan and Naseem reached the semi-finals of IBSF World 6 Red Snooker Championship 2023 on Tuesday.
Naseem beat Xiaolong Liang (China) 5-4 (32-25, 37-11, 22-30, 0-46, 0-44, 53-08, 47-0, 21-34, 44-21) while Ramzan defeated Habib Sabah (Bahrain) 5-2 (35-26, 06-47, 37-0, 0-51(51), 40-11, 41-0(37), 29-27) in the quarter-finals.
Earlier, Ramzan defeated India's Pankaj Advani, winner of more than 20 world titles in billiards and snooker, 5-0 to qualify for the quarter-finals.
In June this year, Ramzan won the Asian U21 Snooker Championship in Iran.
Ahsan defeated Iran's Malad Pourali by five-two in the final.
The young Pakistani cueist looked favourite from the start as he took the lead of 4-0 by winning the first four frames convincingly.
Despite a very strong comeback by the Irani as he won the fifth and sixth frames, Ramzan did not lose his grip on the game and finished the game by winning the seventh frame and claiming the title.
He won the match with frame scores of 48-46, 70-5, 61-6, 62-29, 30-71, 55-67, 101-27.
It must be noted that before Ahsan, three Pakistanis, Farhan Mirza, Majid Ali, and Haris Tahir, on four occasions played in the final of the Asian U21 championship, but none could win the title.
Ramzan also won the IBSF World Snooker Championship title in 2022.